General Information
Instructor:
Geoffrey Towell
259 Park Science Building
526-5064
gtowell at brynmawr dot edu
http://cs.brynmawr.edu/~gtowell
Class:
Lecture Hours
Tuesday / Thursday 12:55-2:15
Room
Park 245
Lab
Tuesday 2:25 - 3:45
Office Hours
Monday 10am - 11am, Thursday 2:30 - 3:30
Also by appointment.

Zoom
Meeting code: 232 840 6920. Password: given in class
Course Description
An introduction to the fundamental data structures of computer science: lists, stacks, queues, trees, Binary Search Trees, graphs, sets and their accompanying algorithms. Principles of algorithmic analysis and object reasoning and design will be introduced using mathematical techniques for the notions of both complexity and correctness.

In addition, there will be a significant discussion of Object-Oriented programming and the implementation of object-oriented programming in Java.
---

Text
Data Structures and Abstractions with Java (fifth edition)
by F. Carrano and T. Henry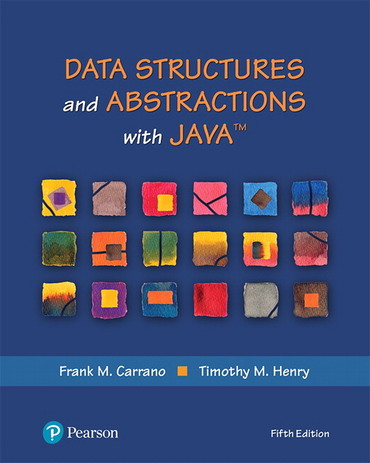 ---

Important Dates
---
Assignments
There will 10-11 weekly homework assignments. Homework will be electronically submitted. All work must be turned in by the due date or it will not be considered.
Work submitted 24 or more hours in advance of the due date will receive a 3 percent bonus.
In addition, you have 2 (two) 24 late passes to be used at your discretion during the semester. To use a late pass you merely have to send me an email saying that you intend to use a late pass. You do not need permission, this is merely to inform me that you are using a late pass. This email MUST be sent prior to the due date. (I have received email with time stamps less than one minute before the due date.) I repeat, approval is automatic. You can use more than one late pass on an assignment. These late passes are intended to give you a little scheduling flexibility. For major issues (requiring more than 24 hours), talk to me. For such issues, you must talk to be more than 24 hours prior to the due date.
Homework assignments are intended to take under 10 hours to complete. That said, some people will require far more that that on some assignments. I strongly encourage everyone to start early. Work some on the assignment. Then go get something to eat, take a nap, etc. Often with programming, getting away from the problem for a while is important.
Despite my best efforts, homeworks may have sections that are not quite correct. If you find an error, let me know. If I agree that the issue is an issue and you have told me of the issue at least 48 hours prior to the due date then I will give bonus points as follows:

3 points for the first issue reported
2 points for the second issue reported
1 point for the third issue reported

Ordering is based on date of email recipt. One bonus per person per assignment.
All assignments must abide by the following standards
Posted code samples will -- almost always -- adhere to these standards. (Code shown in class may not so that it can fit on screens.)
All assignments must be accompanied by a README file. I will read, and often will respond, to all README text. See the file for a description of the expected contents.
Homework 1

Homework 2

Homework 3

Homework 4

Homework 5
Homework 6
Homework 7
Homework 8
Homework 9