CS206: Data Structures, Bryn Mawr College
---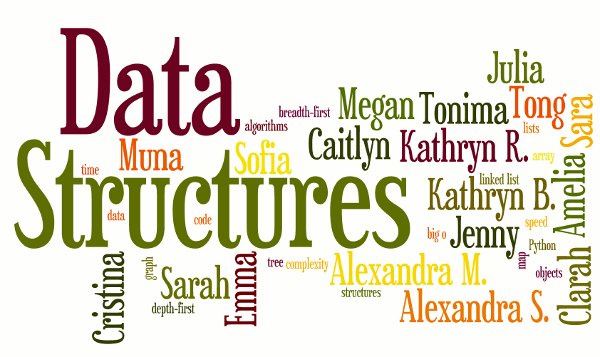 ---
Douglas Blank, Associate Professor
Bryn Mawr College
Department of Computer Science
Fall 2010

---
Overview
This course provides an introduction to the fundamental algorithms and data structures of computer science: sorting, searching, recursion, backtrack search, lists, stacks, queues, trees, graphs, dictionaries. It also provides an introduction to the analysis of algorithms. Prerequisite: CMSC 205 or 110, or permission of instructor.
We will be especially interested in using data structures to solve problems that you are interested in. This might include: social justice, mathematics, scientific analysis, education, creativity, game playing, artificial intelligence, problem solving, and more.
General Information
---
Course URL: cs.brynmawr.edu/Courses/cs206/fall2010
Instructor: Douglas Blank, 248 Park Science Building, 526-6501
Email: dblank (at) cs (dot) brynmawr (dot) edu
Web: cs.brynmawr.edu/~dblank
Office hours: Tuesday and Thursday, 1-2pm and by appointment
Course Meetings: Monday and Wednesday, 2:30-4:30am
Lab: Park Science Building, room 337 Lab Assistants: Marissa (mmocenigo), Mondays 8-10pm, and Wednesday 9-11pm

Texts
---
Materials
---
| | |
| --- | --- |
| For your final project, you may use a One Laptop Per Child. This would be especially appropriate if your final project was an educational project. | |
Software
---
We will be using Python, version 3, for this course. In addition, we will use some custom Python modules that will be available here for downloading.
chess.py - a general chess playing engine
Schedule (approximate, schedule may change)
---
Week
Dates
Topic
Assignment
1
Mon 08/30/2010, Wed 09/01/2008
Review of Python: Lists and Functions
Python Review
2
Mon 09/06/2010, Wed 09/08/2008
Files and Input/Output; Dictionaries
No classes on Monday, Labor Day
3
Mon 09/13/2010, Wed 09/15/2008
Lists, Dictionaries, and Files
4
Mon 09/20/2010, Wed 09/22/2008
Defining Classes
5
Mon 09/27/2010, Wed 09/29/2008
Object-Oriented Programming
mylist.py - code from class on Monday
6
Mon 10/04/2010, Wed 10/06/2008
Binary Trees
7
Mon 10/11/2010, Wed 10/13/2008
Fall Break! No classes
8
Mon 10/18/2010, Wed 10/20/2008
Midterm Exam. Binary Trees.
9
Mon 10/25/2010, Wed 10/27/2008
Binary Trees, continued. Lab: 1 Million Items in tree; Lab: 20 Questions. Solution #1, #2, Solution #3.
10
Mon 11/01/2010, Wed 11/03/2008
Project: Interactive Fiction.
Format. For Wed: pick a game context, draw out a map, write code to read game file.
11
Mon 11/08/2010, Wed 11/10/2008
Graphs
Reading the game file: interactive_fiction2.py
12
Mon 11/15/2010, Wed 11/17/2008
Graph Traversals
Projects
13
Mon 11/22/2010, Wed 11/24/2008
Loose Ends: Inheritence, Sorting, and Big O,
Sorting, Searching, and Big O
Thanksgiving begins after class!
14
Mon 11/29/2010, Wed 12/01/2008
Searching and Review
Searching Graphs, Review
15
Mon 12/06/2010, Wed 12/08/2008
Project Presentations
Projects, Final Projects
Other dates of interest in Fall 2010:
Monday, August 30
Classes begin at Bryn Mawr, Haverford, and Swarthmore
Thursday/Friday, September 2- 3
Confirmation of Registration for new students
Monday, September 6
Labor Day (no classes at Bryn Mawr or Haverford)
Tuesday/Wednesday, September 7 and 8
Confirmation of Registration for returning students
Friday, October 8
Last day to declare a class Credit/No Credit; Fall break begins after last class
Monday, October 18
Classes resume
Friday, October 22
Last Day of 1st Qtr. Classes: all work due
Monday, October 25
2nd Qtr. Classes begin
Monday, November 1-12
Preregistration for Spring 2011
Fri-Sun, November 5-7
Parents' Weekend
Wednesday, November 24
Thanksgiving begins after last class
Monday, November 29
Classes resume
Thursday, December 9
Last Day of Classes: all written work due
Friday/Saturday, December 10-11
Review Period
Sun-Fri, December 12-17
Examination Period
Saturday, December 18
Winter Break begins (dorms close at 10:00 a.m.)
Grading
---
Final grades will be calculated as a weighted average of all grades according to the following weights:

Written work: 25%
Midterm Exam: 20%
Final Exam: 20%
Class participation: 25%
Project: 10%

---
dblank (at) cs (dot) brynmawr (dot) edu