CS371: Cognitive Science, Bryn Mawr College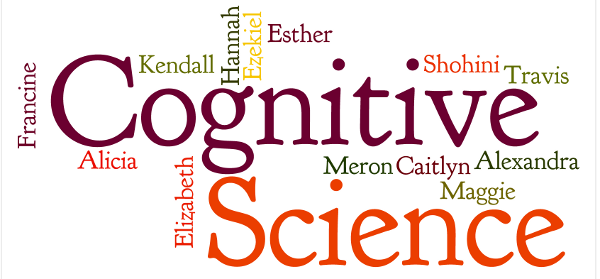 Douglas Blank
Computer Science Department
Spring 2013

Overview
Cognitive science is the interdisciplinary study of intelligence in mechanical and organic systems. In this introductory course, we examine many topics from computer science, linguistics, neuroscience, mathematics, philosophy and psychology. Can a computer be intelligent? How do neurons give rise to thinking? What is consciousness? These are some of the questions we will examine. No prior knowledge or experience with any of the subfields is assumed or necessary. It is assumed that you have junior or senior ranking in a field related to cognitive science. Otherwise, you should have permission of the instructor.
General Information
Course URL: cs.brynmawr.edu/cs371
Instructor: Douglas Blank, 248 Park Science Building, 526-6501
Email: dblank (at) cs (dot) brynmawr (dot) edu
Web: cs.brynmawr.edu/~dblank
Office hours: Monday and Wednesday, 1-2pm and by appointment
Course Meetings: Tues and Thursdays, 9:45-11:15am, Park Science 227
On-line course materials: moodle.brynmawr.edu Open Lab: Park Science Building, room 230, Fridays 1-2
Texts
This course will be part seminar/part hands-on laboratory. We will have readings or lab assignments, followed by discussions. Students are expected to be in attendance, and participate in discussions.
Software
We will be using a variety of software for this course. A Linux account will be created for you so that you may use the computer science laboratories for experiments.
Schedule (approximate, schedule may change)
Week
Dates
Topic
Assignment
1
Tue 01/22/2013, Thu 01/24/2013
Introduction to Cognitive Science
Cogntive Science Central Dogma: Representational/Computational Assumption
Assignment #1: Read Cognitive Science and Cognitive Science at Wikipedia. Write a paragraph or 2 write-up detailing interesting aspect of readings. Bring printed write-up and be prepared to discuss next Tuesday, 1/29
2
Tue 01/29/2013, Thu 01/31/2013
Discussion of Cognitive Science
Assignment #2: Minds, Brains, and Programs. Write a 1-page "reaction" write-up detailing how you feel about the reading. Is Searle right? Bring printed write-up and be prepared to discuss next Tuesday, 2/5.
Assignment #3: Exploration of Chess
3
Tue 02/05/2013, Thu 02/07/2013
Discussion, Chess Challenge (completed, 50 move stasis max, crash == lose, each team played every other team 4 times):


| Team | Wins | Draws | Losses | Score |
| --- | --- | --- | --- | --- |
| 1 (Natalie & Bianca) | 2 | 26 | 4 | 1479 |
| 2 (Besan & Siv) | 5 | 24 | 3 | 1521 |
| 3 (Maggie & Lakshmi) | 2 | 28 | 2 | 1500 |
| 4 (Elizabeth & Yijun) | 6 | 25 | 1 | 1557 |
| 5 (Alicia & Shohini) | 0 | 27 | 5 | 1443 |
| 6 (Leslie & Francine) | 2 | 26 | 4 | 1479 |
| 7 (Lara & Travis) | 0 | 31 | 1 | 1486 |
| 8 (Subin & Esther) | 0 | 30 | 2 | 1479 |
| 9 (Doug) | 5 | 27 | 0 | 1557 |

Assignment #4: Using Chess as the domain, compare with Searle's argument. Discuss related questions, such as: Is chess.py a good example of AI? What do we need for general intelligence? What is a symbol? Also, please describe a bit about how your program actually works. Would you be able to tell how it works by just watching it play games, if you weren't familiar with its inner workings? Describe the style of how your program plays.
4
Tue 02/12/2013, Thu 02/14/2013
Discussion on Symbols
Assignment #5: NetTalk. Read the first 1/2 of the original 1987 paper on NetTalk, and come ready to discuss on Thursday, Feb 14, 2013.
5
Tue 02/19/2013, Thu 02/21/2013
Discussion on Non-symbols and NetTalk
Assignment #6: Learning in a Neural Network. More details can be found here.
6
Tue 02/26/2013, Thu 02/28/2013
Discussion on Learning
Assignment #7: Read Finding Structure in Time, discussion on Tuesday.
7
Tue 03/05/2013, Thu 03/07/2013
Discussion on Finding Structure in Time
Assignment #8: Representing Time. SRN additional details
8
Tue 03/12/2013, Thu 03/14/2013
Spring Break!
9
Tue 03/19/2013, Thu 03/21/2013
Building your own Finding structure in Time
Finishing Assignment #8 (due next Thursday)
10
Tue 03/26/2013, Thu 03/28/2013
Discussion
Assignment #9: Read for next Tuesday: A self-watching model of analogy-making and perception. Journal of Experimental and Theoretical Artificial Intelligence, 18(3), pp. 267-307.
11
Tue 04/02/2013, Thu 04/04/2013
Discussion of Metacat and Copycat
Assignment #10: Metacat Lab: Due the exercises for next Tuesday. Also see here for additional information.
12
Tue 04/09/2013, Thu 04/11/2013
Discussion on Metacat and Creativity
Discussion on Neurons
Assignemnt #11: Neurons. Please read and run:

Neurons, Action Potentials, and Neurotransmission. There are a number of animations. Please read and review all, including the Additional Resources.
Neuroscience Online. Make sure you click the buttons and "Play" in the images.

13
Tue 04/16/2013, Thu 04/18/2013
Discussion on The Hard problem
Next Readings: The Hard Problem, Philosophy of Mind

14
Tue 04/23/2013, Thu 04/25/2013
Discussion on Mirror Neurons
Readings: Mirror Neurons

15
Tue 04/30/2013, Thu 05/02/2013
Discussion on Intelligence, Course wrap-up

Alex the Parrot

Discussion of Animal Intelligence
16
Final Project Videos
Other dates of interest in Spring 2013:
| | |
| --- | --- |
| Classes Begin | Tuesday, January 22, 2013 |
| PE Classes Begin | Monday, January 28, 2013 |
| Last day to drop a fifth class | Friday, February 8, 2013 |
| Last day to sign up for Credit/No Credit for Semester classes | Friday, March 1, 2013 |
| Spring Vacation Begins (after last class) | Friday, March 8, 2013 |
| Spring Vacation Ends (at 8:00am) | Monday, March 18, 2013 |
| Preregistration begins | Monday, April 8, 2013 |
| Preregistration ends | Friday, April 19, 2013 |
| Last Day of Classes | Friday, May 3, 2013 |
| Review Period Starts | Saturday, May 4, 2013 |
| End of Review Period | Monday, May 6, 2013 |
| Examination Period (Start) | Tuesday, May 7, 2013 |
| Final examinations end for seniors (@ 12:30pm) | Saturday, May 11, 2013 |
| Examination Period (Ends at 12:30pm) | Friday, May 17, 2013 |
| Commencement | Saturday, May 18, 2013 |
Grading
Final grades will be calculated as a weighted average of all grades according to the following weights:

Assignments and Labs: 80% (about 11)
Project: 20%

---
dblank (at) cs (dot) brynmawr (dot) edu