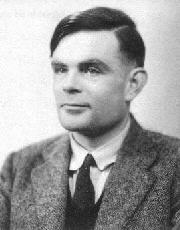 April 10, 2003
Alan Turing: Breaking the Code
Starring Derek Jacobi as Alan Turing. Directed by Herbert Wise, 90 minutes, 1997.
Based on the screenplay by Hugh Whitemore and the book Alan Turing: The Enigma
Synopsis: This is the story of mathematical genius Alan Turing (played by Derek Jacobi), the man who designed the computer that cracked the German Enigma code and, it is argued, enabled the allies to win World War II. It is also the story of a tormented and truthful man whose admittance to homosexuality, at a time when it was illegal, presented problems for him, his family, his colleagues, and the State's preoccupation with National Security. Whether interpreting top-secret documents, refusing to marry the assitant who's in love with him, or facing his crumbling private life, Turing pulls no punches. And Hugh Whitemore's screenplay, based on his play and Andrew Hodges book, Alan Turing: The Enigma, is presented with all the humor, compassion and intellectual importance it deserves.
Thursday, April 10 7:30 p.m. to 9:00 p.m. in Room 338 Park Science Building (Tea at 7:00 p.m.)
Computing History Month Main Page | Directions | The Bryn Mawr Center for Science and Society | Andrew Hodges' Turing Site
History of Computing on the Web